Not sleeping well? You may need a new mattress. Before choosing the best one, you should learn about the best mattresses of 2016-2017 is a good way to make sure you choose a good one. When looking for a new bed, most customers seek as good night's sleep as well as the best value for their money. But, it is also helpful for you to know which ones do not are so well to avoid the duds. If you are not familiar with the materials and sales tactics, buying a mattress can be confusing. There are many beds out and it can be difficult. In this review, you will read the consumer reviews of the worst-rated beds to avoid in your next shopping.
1. Promotional Mattresses
The sellers provide the promotional mattresses for a limited time such as doorbuster deals during holiday sales. The primary place is to catch eyes during sales. You can find it difficult to research reviews or compare them to other beds because of the limited offer. The price of the mattresses is very low, but they have lower quality than average. Of course, they have limited or no warranties.
2. Very Cheap Beds
Cheap mattresses under $500 tend to have worse ratings than mid-priced beds in $800-$2000 range. You should consider their quality, lifespan, and reviews before deciding to buy the type of mattress. Cheaper mattresses can offer comfort at first, but the satisfaction needs long-term quality. Besides, the lower quality materials will lose comfort sooner and break down faster. These beds tend to have less warranty coverage because you will replace a new one sooner.
3. Too-Thin Mattresses
The thin mattresses have lower comfort ratings in most reviews. The comfort layers in the bed cannot adequately cushion the sleeper against the coils or support foam. People over 250lbs tend to prefer a bed with 10'. And, those over 200lbs may find mattresses in 14" thick. If you are a side sleeper, the ideal mattress with 3" of cushioning material is an ideal choice.
4. Hot Or Constrictive Memory Foam
Although most memory foam mattresses tend to earn highest ratings, the beds have an issue with the heat. Thick layers lead to the issue in the memory foam beds. Overall, memory foams mattresses have a high rate of heat complaints. For the traditional memory foam, the complaint rates are around 8-12% with higher density beds sleeping hooter. On the other hand, gel memory foam feels cooler, but they have heat complaints of about 6-8%. Besides, plant-based memory foam may sleep up to 25% cooler than other types. It also has lower heat complaint rates from 2-6%. Plus, memory foam beds have the customer satisfaction rating of about 81%.
5. Mattresses With Low-Density Foam
The low-density foam often offers lower satisfaction over time when it comes to pain relief and durability. For poly foams, the low density is under 1.4lbs and under 3.5 lbs for memory foams. Because of a less dense structure, low-density foams are more prone to compression and provide a less buoyant feel than higher densities. But, the foams are cheaper, they can be budget-friendly for temporary mattresses. Besides, heavier people should consider foam with more density because it may wear less under their weight.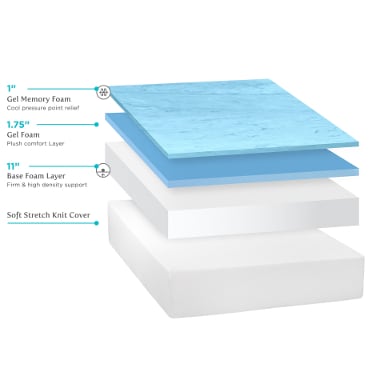 The information is from the consumer mattress review websites. Without naming names, the following traits make customers dissatisfied and get lower overall satisfaction. If you look for longevity, value, and comfort, you should watch out the best mattresses from the inferior ones. Remember, some of the highest rated beds are not super expensive, or from the biggest brand. You should shop around and do not be afraid to look online. Then, you should ask the seller some questions for choosing the best one. Checking reviews are one of the most effective tools to find the best mattress.